Kathrin ten Hagen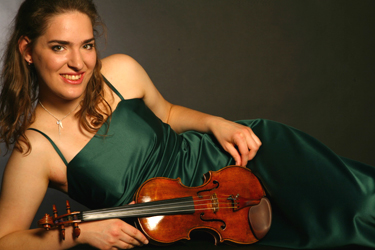 Photo: Yourlook GmbH
Kathrin ten Hagen studied with Antje Weithaas in Berlin, with Igor Ozim in Salzburg and as a scholarship holder of the DAAD with Donald Weilerstein in Boston/USA. In 2009 she was awarded her Master of Music degree with honors.
In September 2009 she won the first prize at the Donald Portnoy International Violin Competition in Augusta/Georgia. She was also the first prize winner at the California International Young Artists Competition in San Diego, the International Wolfgang Marschner Competition, the Ibolyka Gyarfas Violin Competition of the Berlin music academies and the German national competition Jugend Musiziert.
She played as a soloist with orchestras such as the Deutsches Symphonieorchester Berlin, the Hamburger Symphoniker, the KlassikPhilharmonie Hamburg, the Nürnberger Symphoniker, the State Chamber Orchestra of the Republic of Belarus and the Kammerorchester arcata stuttgart and was invited to the Schleswig-Holstein Musik Festival, the Festspiele Mecklenburg-Vorpommern/Germany and the Yellow Barn Festival/USA. Her success at the competition of the Deutsche Stiftung Musikleben in 2003 entitles her to a violin by Andreas Guarnerius, Cremona 1663.