"Four siblings form a professional string quartet together – how can that work?" This is the question we are confronted with most often. "How is it possible that all of them are musically talented? How can it be that they get along with each other, that all four of them pull in the same direction? Is there no competition, no fighting between them"

Early in our childhood, we listened to classical CDs, went to children's concerts, sang songs together. Thus, we all developed a passionate and at the same time unconstrained relationship to music. At the age of six, our oldest sister Kathrin started playing the violin – and the younger ones found it great! Thus, we soon had three violinists in the family. Luckily, our youngest brother Malte was of the opinion that this was enough and became enthusiastic about the cello. Borge then discovered his passion for the viola – and the string quartet was perfect!

At first, each of us went their individual way. We studied in different cities and with different teachers, took part successfully in competitions and started performing as soloists early in our lives. We worked in youth orchestras with famous conductors and played chamber music with many different musicians. Thus, each of us has become an independent musical personality. Now we can incorporate all these experiences into our quartet work.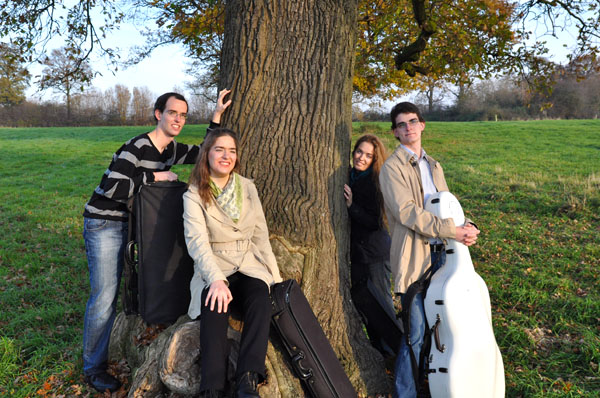 At the same time, we realize again and again during the rehearsals which great advantages our mutual roots provide. First of all, there are the trust and openness: We can say anything to each other, we do not have to pretend. This makes a lot of things easier and less complicated. Besides, we usually understand each other without much talking. Often, we have similar ideas and emotions, we know how the others feel, know their characters, their strengths and weaknesses. And we have the certainty that we can rely on each other.
Nevertheless, it is not easy to unite four individuals – each of them with their own characteristics, requests and wishes – in one quartet. Of course, there are also conflicts, and sometimes the sparks really fly. But for us these quarrels are normal and necessary, often it is because of them that we take a step forward. They are never insoluble or destructive. Thus Kurt Tucholsky wrote: "Wild Indian tribes are either on the warpath or they smoke the peace pipe. Siblings can do both at the same time." If you have the necessary patience and tolerance and the shared will to hold together, you will understand the siblings' quartet with its interplay of harmony and conflicts as an unbelievably exciting and productive relationship. "A brother and a sister, there is nothing more beautiful in the world. No bond in life holds tighter, if one sticks to the other." (anonymous) We are two brothers and two sisters, a complete family quartet, nobody is excluded, nobody exchangeable. Each of us has their individual task and function, each of us helps shape and develop the quartet by their own character and in their own way.
Last but not least, it is our shared love for music that keeps us together.